meditation <3 ...healing <3
My Heart's in the Highlands <3 ... Happy Burns Night <3
There so much love in me :) ...Full Volume!! :D
May the Year 2017 be GREAT for the whole WORLD <3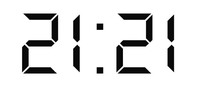 Matthew 21:21
New International Version (NIV)
21 Jesus replied, "Truly I tell you, if you have faith and do not doubt, not only can you do what was done to the fig tree, but also you can say to this mountain, 'Go, throw yourself into the sea,' and it will be done.
Teaching rules :)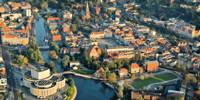 There we go again. Making decisions has not been easy. I love teaching, therefore I'm going home again, to Bydgoszcz, Poland. I don't want to work in shops, hotels or call centre... Why does it have to be so hard to make my dreams come true. I was so close this time. I loved teaching teenagers here, in Edinburgh. It was a very special time... I won't give up! Next year I will attempt again... Being rejected so many times makes me tougher... There are so many things that I want to do, discover and explore... My Dear Scotland, I say bye to you now, but expect me to be back again. Much Love to you, my Scotland XXX 
Set off on a new journey :)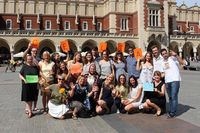 Yeay :D !!!
Thanx to CELTA and all of the ups and downs that I have been through so far I am going back to Edinburgh to teach English :D YEAY!!
Life is wonderful :)
Let's do it!!! 
As Nelson Mandela once said:
'It is in your hands to create a better world for all who live in it' <3
Let's go!!! :D
<3 Kieślowski
25/11/2015 ...what will your verse be?
<3 (21/11/2015)
With The Best New Year 2015 Wishes <3 to all of my Friends <3
Christmas 2014
Recipe for Christmas All Year Long
Take a heap of child-like wonder
That opens up our eyes
To the unexpected gifts in life—
Each day a sweet surprise.
Mix in fond appreciation
For the people whom we know;
Like festive Christmas candles,
Each one has a special glow.
Add some giggles and some laughter,
A dash of Christmas food,
(Amazing how a piece of pie
Improves our attitude!)
Stir it all with human kindness;
Wrap it up in love and peace,
Decorate with optimism, and
Our joy will never cease.
If we use this healthy recipe,
We know we will remember
To be in the Christmas spirit,
Even when it's not December.
By Joanna Fuchs
Unique happiness in my homeland, Poland <3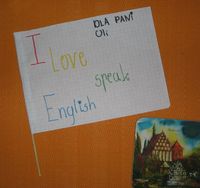 The flag which I got from my pupil, Zuzia :))). The woderful reward for the hard work :)))
Hmm, so it has already been two months... I've been living and working in Bydgoszcz, back in my dear homeland. I call this a 'unique happiness' as I do not earn much, I am not a rich person in the matter of money. However, I have gained something much more important in life. I am closer to my family and friends, I work as a teacher and I try to inspire my country fellows to learn English language. I want them to become self-confident wherever they go abroad - to speak fluent English, and to make friends with people from around the world. I live in my own flat, therefore noone can get rid of me. I live in my home country, in my dear home city, Bydgoszcz. It is a beautiful and special place, one of the biggest cities in Poland and the greeniest. It's over 650 years old. It had got the city rights in 1346 from the king, Casimir the Great. Although we used to have a castle back in the XVII century it was destroyed in the times of the war with the Swedes in 1630.
Bydgoszcz develops and gets prettier every year. Even though the Polish government does not care well about the wellbeing of the Poles it is my country, my home, my heritage, my values and I am proud of the history of Poland and the bravery, sacrifice and values of my ancestors.
There are other things in life that make you rich, and they are not the money.
(12/11/2014)
8th of October 2014 // It's been a month already :D
It's been a month already since I came back to my homeland, Poland :)))
I must say - it has been really crazy, busy and hilarious!!! I am a happy teacher, who works hard to inspire children and adults to become self-confident in speaking and using English. I teach beginners, intermediates and advanced. I have also been given a chance to prepare teenagers for the First Certificate in English! :D wow :)))
I believe in 'my' people! I can see the motivation and passion for the English language in them, which makes my experience of teaching very exciting and enjoyable!! I believe I can fly high :D
YEAY!!!
More updates at a later time... It has been a speedway since my return, that's why I haven't posted anything new till today :)))
xxx
5th of September 2014 ...my 'leaving party' today!
1st of September 2014. It's been 75 years since the Westerplatte (Poland) had been bombarded and the WWII begun. I fear for the future.
By Anne Applebaum
She writes a biweekly foreign affairs column for The Washington Post. She is also the Director of the Global Transitions Program at the Legatum Institute in London.
WARSAW
Over and over again — throughout the entirety of my adult life, or so it feels — I have been shown Polish photographs from the beautiful summer of 1939: The children playing in the sunshine, the fashionable women on Krakow streets. I have even seen a picture of a family wedding that took place in June 1939, in the garden of a Polish country house I now own. All of these pictures convey a sense of doom, for we know what happened next. September 1939 brought invasion from both east and west, occupation, chaos, destruction, genocide. Most of the people who attended that June wedding were soon dead or in exile. None of them ever returned to the house.
In retrospect, all of them now look naive. Instead of celebrating weddings, they should have dropped everything, mobilized, prepared for total war while it was still possible. And now I have to ask: Should Ukrainians, in the summer of 2014, do the same? Should central Europeans join them?
I realize that this question sounds hysterical, and foolishly apocalyptic, to U.S. or Western European readers. But hear me out, if only because this is a conversation many people in the eastern half of Europe are having right now. In the past few days, Russian troops bearing the flag of a previously unknown country, Novorossiya, have marched across the border of southeastern Ukraine. The Russian Academy of Sciences recently announced it will publish a history of Novorossiya this autumn, presumably tracing its origins back to Catherine the Great. Various maps of Novorossiya are said to be circulating in Moscow. Some include Kharkiv and Dnipropetrovsk, cities that are still hundreds of miles away from the fighting. Some place Novorossiya along the coast, so that it connects Russia to Crimea and eventually to Transnistria, the Russian-occupied province of Moldova. Even if it starts out as an unrecognized rump state — Abkhazia and South Ossetia, "states" that Russia carved out of Georgia, are the models here — Novorossiya can grow larger over time.
Russian soldiers will have to create this state — how many of them depends upon how hard Ukraine fights, and who helps them — but eventually Russia will need more than soldiers to hold this territory. Novorossiya will not be stable as long as it is inhabited by Ukrainians who want it to stay Ukrainian. There is a familiar solution to this, too. A few days ago, Alexander Dugin, an extreme nationalist whose views have helped shape those of the Russian president, issued an extraordinary statement. "Ukraine must be cleansed of idiots," he wrote — and then called for the "genocide" of the "race of bastards."
But Novorossiya will also be hard to sustain if it has opponents in the West. Possible solutions to that problem are also under discussion. Not long ago, Vladimir Zhirinovsky — the Russian member of parliament and court jester who sometimes says things that those in power cannot — argued on television that Russia should use nuclear weapons to bomb Poland and the Baltic countries — "dwarf states," he called them — and show the West who really holds power in Europe: "Nothing threatens America, it's far away. But Eastern European countries will place themselves under the threat of total annihilation," he declared. Vladimir Putin indulges these comments: Zhirinovsky's statements are not official policy, the Russian president says, but he always "gets the party going."
A far more serious person, the dissident Russian analyst Andrei Piontkovsky, has recently published an article arguing, along lines that echo Zhirinovsky's threats, that Putin really is weighing the possibility of limited nuclear strikes — perhaps against one of the Baltic capitals, perhaps a Polish city — to prove that NATO is a hollow, meaningless entity that won't dare strike back for fear of a greater catastrophe. Indeed, in military exercises in 2009 and 2013, the Russian army openly "practiced" a nuclear attack on Warsaw.
Is all of this nothing more than the raving of lunatics? Maybe. And maybe Putin is too weak to do any of this, and maybe it's just scare tactics, and maybe his oligarchs will stop him. But "Mein Kampf" also seemed hysterical to Western and German audiences in 1933. Stalin's orders to "liquidate" whole classes and social groups within the Soviet Union would have seemed equally insane to us at the time, if we had been able to hear them.
But Stalin kept to his word and carried out the threats, not because he was crazy but because he followed his own logic to its ultimate conclusions with such intense dedication — and because nobody stopped him. Right now, nobody is able to stop Putin, either. So is it hysterical to prepare for total war? Or is it naive not to do so?
#icebucketchallenge (30th of August 2014)
My support for the ALS Association: taking part in the #icebucketchallenge.
Their mission: Leading the fight to treat and cure ALS through global research and nationwide advocacy while also empowering people with Lou Gehrig's Disease and their families to live fuller lives by providing them with compassionate care and support. http://www.alsa.org/
PS: this is actually a cold goodbye from Tiff, LOL :D
Goodbye Scotland :) / 29th of August 2014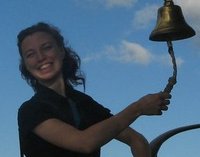 I must say that all of my friends from Edinburgh and the UK are waving goodbye to me in an amazingly warm way... I will miss them all... so much more could be done... my new challenge is calling me though... I have lighted a candle here and shared my heart :))), and I've done my best... and it's time to go again... I am happy for God has given me so many people and their friendships <3... I've learnt a lot!!!...
Going back to Poland to teach English young learners!! Challenging task ahead and I hope for the best... I'm going there with all my heart <3