'Interview with the Vampire' by Anne Rice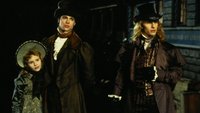 After watching the movie many years ago, I have been recently reading Anne Rice's book about the life of Louis, the vampire. He is so human, fragile and sensitive that it is impossible not to fall in love with him, even though he has been a devil creature. I fall into pieces when I read about his feelings of living on the other side of life. Being an alive dead creature causes him so much pain, struggle between his devil and angelic nature. What a fantastic landscape of vampire's inner world. A thought comes to my mind: aren't we all, living creatures like vampires? in the struggle between two natures within us. What choice we make results in consequences.. I will write much more...
George R. R. Martin, A SONG OF ICE & FIRE part I: A Game of Thrones (1996)
FANASTIC!!! ...I am going to write more soon, soon !!!
Fantasy Music - Tales of Ice and Blood
Simon Mawer "The Girl who fell from the sky" (2012)
Pour vivre heureux, vivons cachés: "In order to live happily, live hidden"  ~ Jean-Pierre Claris de Florian ~
She was one of the many who have sacrificed their lives. The brutality of war makes a life changing impact on human beings…
The analysis of psychology of the main character: Mariane / Anne-Marie / and Alice.
The pictures of highlands of Scotland, London, Paris and Toulouse.
The story of the brave and exceptional woman, who is forced to make life choices in the times of the WWII. This lecture allows observing the reality of the extreme horrors of war through the eyes of a maturing woman. Wonderfully painted landscape of human inner nature, thoughts, conflicts, desires, choices, decisions, hesitations, individual sacrifice made for the good of the beloved ones and the country… The main heroine of the story becomes a secret agent chosen by the British resistance movement operating in France, because of her double nationality: English and French. The drama of a girl of many identities has begun with the profession that she got involved in. She evolves from an ordinary girl into a war agent. Going through a long and harsh training for a killer, spy, learning about conspiracy, various techniques of coding messages, cheating the enemy, hiding from the 'rafle', escaping death, learning to trust only yourself. Being deprived of private life, family, friends, dreams and everything  humane…

If you read between the lines, you will understand the horror people living in the times of war had to go through.
Puisque vous partez en voyage MIREILLE
Arturo Pérez-Reverte Gutiérrez "El tango de la guardia vieja" (2012) /The Tango of the Old Guard/
Sweet dreams over full of flavour, very hot and spicy Argentinian tango of Old Guards...
Buenos Aires, Nice and Sorrento... the twenties, the thirties and the sixties of the XXth century... tango, chess, money, luxury, crime, love, sex, betrayal, politics, jealousy... everything composed around the main character - the Old Guard, Max Costa... and his love - Mercedes...
...It has taken me a while to review this amazing story. Wow! This book tastes so well that you want to postpone the finish for later and later! I admire the colours, the shades, landscapes which Arturo Perez-Reverte paints with his skilled narrative. And these flavours, touch and fragrances which you can feel as you were there, in the middle of action. Fantastic! You can experience three different eras in two people's lives whose paths crossed by chance to make a life impact. All combined with great tango music, chess wonderfully mixed as world championships and as a life game, and people of world fame. On top of that pictures of two worlds, of the rich and of the poor penetrating one another. Magnificent way of composing them together to emphasise the contrasts but also to show intensive feelings, bright and dark side of human nature, sex and passion and understanding of instincts... this all greatly composed in penetrating plots, flashbacks, this is how the story evolves...
I am truly charmed!!! The characters have also been constructed in a fabulous way, exceptionally presented body language and inner worlds of thoughts and feelings that build a whole picture of the personalities and their life paths…Eh, I will definitely come back to the story after some time and I am definitely going to read other stories by Arturo Perez-Reverte!
For further individual study:
Classics of Tango Dance Music.

An evolving list of great tangos, milongas and valses for social dancing as recommended by tango dancers and DJs from around the world.

Conceived and Organized by Stephen Brown: http://www.tejastango.com/classic_tangos.html
Caminito Florindo Sassone y Su Orquesta