My most beloved musical <3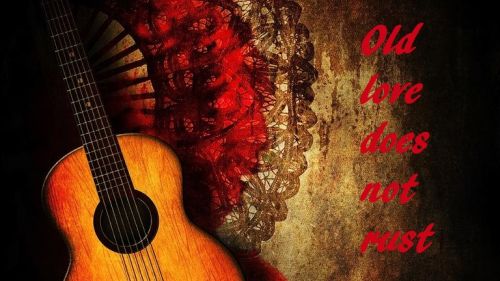 "The duende, then, is a power, not a work. It is a struggle, not a thought. I have heard an old maestro of the guitar say, 'The duende is not in the throat; the duende climbs up inside you, from the soles of the feet.' Meaning this: it is not a question of ability, but of true, living style, of blood, of the most ancient culture, of spontaneous creation.".
[...] "everything that has black sounds in it, has duende. [i.e. emotional 'darkness']
[...] This 'mysterious power which everyone senses and no philosopher explains' is, in sum, the spirit of the earth, the same duende that scorched the heart of Nietzsche, who searched in vain for its external forms on the Rialto Bridge and in the music of Bizet, without knowing that the duende he was pursuing had leaped straight from the Greek mysteries to the dancers of Cadiz or the beheaded, Dionysian scream of Silverio's siguiriya."
[...] "The duende's arrival always means a radical change in forms. It brings to old planes unknown feelings of freshness, with the quality of something newly created, like a miracle, and it produces an almost religious enthusiasm."
[...] "All arts are capable of duende, but where it finds greatest range, naturally, is in music, dance, and spoken poetry, for these arts require a living body to interpret them, being forms that are born, die, and open their contours against an exact present."
García Lorca   -   Theory and Play Of The Duende
"I don't want to be a star, or a rich man. I am working for my village, for my country, for my music, for the tradition of the art form, and I want to make the music better, always better."

"In my music, we are very simple. In the phrygian mode, there are simple scales and harmonies with heavy emotion and tradition."
Paco de Lucia 
Links: Garcia Lorca 'Theory and Play of the Duende' http://www.poetryintranslation.com/PITBR/Spanish/LorcaDuende.htm
          'Duende Art' by Dr. Jose Rodeiro (2013) http://www.duendeart.org/
          Paco de Lucia http://www.pacodelucia.org/
Flamenco by Carlos Saura (1995)
The real 'LOVE STORY' of one of my students.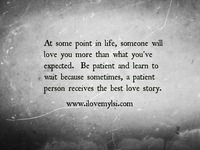 This is his story, and it's very touching:
When I was young I had a dream about having a happy family and our own house. When I was in primary school I met a crazy girl. Her name was J. She was my friend from another class, but the same school. It has developed into big love, love of my life. We were still together in secondary school, although learning in different schools: I studied economy at secondary school and she studied at college. We used to spend a lot of time together going to parties very often, and sharing our lives. We have always loved belonging to each other. We would sometimes do crazy things and we would make our families cry. I believe that we were just teenagers and we were allowed to do so. Most importantly, we studied hard and we got good marks. We were responsible. After secondary school we had to make a decision about our future, asking each other a question: 'What do we want to do as adults?'. We wanted to be together, our hearts were saying so. However, our minds advised us to set a goal and achieve it: to get good qualifications, find a good job and earn good money. On the other hand, we didn't want to end our crazy lifestyles with parties and holiday travels. 
Eventually, I moved to Silesia to study economics and my girlfriend stayed in Bydgoszcz. She agreed on her father's opinion that she should study building engineering. It was a problem for us, because we lived 400km away from each other. We were considering changes and wondered what could be done. We could not see each other, we rarely spoke, and we missed spending time together. After half a year, my girlfriend made a decision. She gave up her studies in Bydgoszcz and she moved to Częstochowa, to study there, to become a teacher of English and Spanish languages.
We lived away from Bydgoszcz happily, although often without money. It was incredible. We learnt how to cook, we developed our interest in mountain hiking, and we spent a fantastic time. 
In 1998 we decided to stay together for the rest of our lives. We got married the same year. Our first son was born the following year, and the second the year after.
We are a very happy family and in our hearts we still are teenagers. We love it. I am sure that sometimes dreams come true.
Robin Williams 1951 - 2014 R.I.P. [*]
I, Prometheus... 1994 (my essay)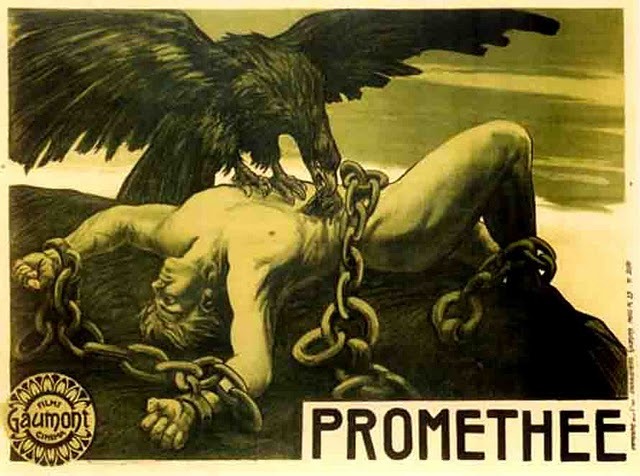 ...I have been hanging chained to the rock. There is no wind blowing, nobody alive around. Silence, only starving vultures flying over me, to guzzle my liver... The Sun is burning my temples, causing such bad aching that I can hardly blink. Humid and sultry air is getting into my throat, I cannot emit any sound, any word through my whithered and crinkled lips... Oh, how thirsty I am... I wish it would rain down... Oh, I suffer! Rightly? For the good I have given to people? No, for the wrong I turned against Zeus... But I am proud of myself, for I have done something great, I have broken what was forbidden... so I am suffering here, chained to the rock, for my own fault. I have done that to save people from danger. A man cannot live without the fire, all men could die from cold, without the light...
...
Long awaited rain has finally fallen. Little drops of water are falling down alike heavy, tired globules. I feel moisture on my lips, I can quickly lick it up and expose my tongue. The rain starts pouring, oh, how I needed it... Slower and slower, less and less globules are falling, the draught is coming back again and the vultures have come again... I can feel something etching into my wrists, these are the rusty handcuffs...
I feel that I am slowly dying, I have no more strength, I cannot bear it anymore. I am hanging almost unconsciously, and the Sun has made my skin burnt...
...
The vultures are back again, as every day, saliva is flowing down the feathers of their necks... Suddenly I raise my head and I can see that an arrow is reaching the heart of the beast. The vulture is falling down in groans, still staring at me with its bland eyes... I look around and I notice a figure, it was him, who fired an arrow, Heracles... He has rescued me... was it Zeus' will?...
His Holiness the 14th Dalai Lama, Tenzin Gyatso
Tibet and Dalai Lama - the religion of kindness, peace and love.
My spiritual path of awakening has begun many years ago. I believe it was the time of my great depression (some ten years ago?...). However, I was always seeking for the guidance of spiritual leaders, in role models (St Francis of Assisi, Mother Teresa and John Paul II). My true and first 'keepers of the Light' were my grandparents (you can read about them in my 'current: My Polish heritage'). They have passed away years ago, but their Light lives in my heart.
When you are there in your deepest darkness and you seek for the Light there is only one person who can help you with that: it is YOU.
You have an enormous power to overcome any hardships. You are the source of Light. Once you understand - you can rebuild your life death after death. Pain can only strengthen you and so on. Only then you can see the whole picture: the world as a little piece of the universe. You can realise how small you are and how amazing particle you are in the unlimited space.
I have stumbled into Dalai Lama couple of times in my life through seeking ways to rebuild my spirit. Especially most recently I have fallen in love completely with His Holiness. His wisdom, inner strength, and enormous positive energy. He is the living Light - so bright...
I recommend the movie: 'Kundun' (1997) by Martin Scorsese, biographical story of the life of the life of Dalai Lama the XIVth... Yes, sometimes we rediscover movies from the past... thanks to watching 'Seven years in Tibet' (1997) directed by Jean-Jacues Annaud I study further the Dalai Lama's life, his wisdom and the history of his home, Tibet...
Please, get involved in the FREETIBET movement, for the peace loving Tibetians <3... Help Dalai Lama to go back home...
FREE TIBET: http://freetibet.org/
Free TIBET
Tibetan Song Bodpa Tso by Kelsang Yarpel
Inspired by Edinburgh
The Proclaimers - I'm Gonna Be (500 Miles)
Sunshine on Leith and The Proclaimers
After watching 'Sunshine on Leith' film (by Dexter Fletcher, 2013) my feelings about Edinburgh have taken different colours, shades... It is amazing actually how I grow with this amazing city, with Scotland, the country that I have chosen many years ago - at first landing in Glasgow on my bare feet... Like in The Proclaimers' song - Scotland's Story: I came here with nothing and through years I have been growing and taking in variety of scents and colours... and as in the song's lyrics:
'All through the story the immigrants came
The Gael and the Pict, the Angle and Dane
From Pakistan, England and from the Ukraine
We're all Scotland's story and we're all worth the same
Your Scotland's story is worth just the same'
...yes, my Scotland's Story is worth the same :)))
The Proclaimers - Scotland's Story
I remember my enchantment with Edinburgh something about 2004 (OMG! 10 years ago!) through photography passion. I was taking lots of pictures and posting them on various websites to develop skills. This is how I met Szymon :) who lived in Edinburgh at that time! His pictures were amazing... and as I was a huge fan of gothic music then, everything played as in an orchestra... When I first arrived in Scotlland it was Glasgow (2005). I was through very hard times then which are better left behind... It's now a history. However, I decided that time to go back to Poland, to study English and come back to Scotland one day, but stronger... It took me years to settle in Edinburgh... First visit in 2009, just to catch up with friends... this is when I felt in love with Edinburgh's charm completely... I touched my dream and it's fragrance was so sweet and tempting... I challenged myself to settle in Edinburgh in 2010. I took the 'City Travel Review' course for a travel writing researcher (the final result: 'Back alley Edinburgh' travel guide; available here: http://www.lulu.com/shop/edinburgh-september/back-alley-edinburgh/ebook/product-17362662.html)... What an amazing adventure!!! Crazy and fabulous people!!! Journalism writing, interviews with variety of locals, travel around Scotland, exploring Edinburgh... I used to live in Muirhouse, by the Firth of Forth, in Globtrotter's hostel... the city looked so huge and unknown, exciting... WOW! when I think about it now :)... But I didn't manage to settle... I was to come back later - actually in 2012 - to do my MSc degree... I have settled... but I've been writing chapters within 'Edinburgh' Era. 'Harvey Nichols and Morningside' chapter which includes my hard start at Edinburgh Napier University and mending my broken heart after 'Torquay' Era and 'Gdansk' Era.
And this is where I can sing another song by The Proclaimers - Sunshine on Leith:
The Proclaimers - Sunshine on Leith
And from time perspective I can see Edinburgh has healed me... Blessed be God :)... I was running away though after 'HN and Morningside' chapter and before 'Surgeons Hall and Nicolson Square' chapter to Isle of Skye... It was another great escape for my soul, this time to the highlands, as I always dreamed... I experienced walks in the mountains, meeting highlanders and touched the wilderness and heritage of Scotland <3... this is when I felt the spirit of Freedom so strongly!!!! I miss this feeling... Well, then I got back to Edi once again, to begin 'Surgeons Hall and Nicolson Square' chapter :)... going through masters degree, working for the Royal College of Surgeons, sharing a flat with a crazy Irish woman who kicked me out of her flat in early January 2013 (she moved back to Ireland)... Then the chapter of 'Orchard and Festival Theatre' writes itself... this is one of my favourite chapters - it has the scent of spring, Gallery of Modern Art, Dean's Village, travel to London to interview Wally Olins and Rob Davidson (in Greenwich), wirting my masters dissertation, my graduation and 'Olive and Andrew' May visit (Arthur Seat' walks) and my Mom's visit as well... from this sweet phase I moved into the cold 'Edinburgh Castle' chapter, where the reality strikes me again while working for Historic Scotland and I fail in the fight, left broken and bruised... Well, I can see myself between that cold era and my present 'Save the Children and Granton' chapter as a plateau of friends' visits (Gabi, Agatka, Alan, Marysia and Ewa), meditation, and family gatherings (exceptional Christmas time)... I'm writing the 'Save the Children and Granton' chapter now, where charity and living in the area of poverty and impacts of 'war' rule my everyday life... Life has various shades and scents... The film has made me realise how lucky I am to have a chance to taste so many flavours of the amazing City of Edinburgh!
I truly recommend watching the musical 'Sunshine on Leith' - to feel the Scottish spirit, listen to the local dialect, and listen to The Proclaimers' music! You must visit Edinburgh at least once in your life! :D
Sunshine on Leith Official Trailer
Edinburgh Time lapse