Save the Children UK
Not Anymore: A Story of Revolution, directed by Matthew VanDyke.
The impact of three years of war on the health of Syria's children
Syria's three-year civil war has had a devastating impact on children.
At least 1.2 million children have fled the conflict and become refugees in neighbouring countries. Another 4.3 million children in Syria are in need of humanitarian assistance.
These horrifying facts are recognised worldwide. But this report for the first time tells another, less obvious, story of the forgotten casualties of war.
It's not just the bullets and the shells that are killing and maiming children. They are also dying from the lack of basic medical care.
A Devastating Toll looks at the destruction of the health system in Syria and what this means for children and their mothers. It outlines: 
the lack of skilled medical staff and of access to child-focused care, equipment and medicine

the impact of the breakdown in the healthcare system on maternal and newborn health

the rise of vaccine-preventable and infectious diseases in children. 
In short, Syria's humanitarian crisis has become a devastating health crisis.
Source: http://www.savethechildren.org.uk/resources/online-library/devastating-toll
Just because it isn't happening here, doesn't mean it isn't happening.
UNICEF PHOTO OF THE YEAR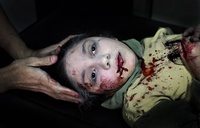 © Niclas Hammarström/Kontinent
Photographers working in crisis regions hate war. They refuse to accept injustice and violence as an irrevocable part of human nature. It is not the reporters who are cynical trying to give a voice or a face to the suffering and dying victims of war but rather those who have become used to the suffering.
Swedish photographer Niclas Hammarström (Kontinent Agency) has traveled several times to Syria since the war started almost three years ago. His photo reportage captures the life of the children in Aleppo caught between the frontlines.
Take action: international petition for the children of Syria
UNICEF and partners have issued an impassioned appeal to the general public, urging it to voice its outrage at the devastating impact on children and alarming long-term consequences of a lost generation, as the Syrian conflict approaches its fourth year.
Source: http://www.unicef.de/photo
Michael Jackson - Heal The World